Afghans have been excluded from the judicial process after the shooting that left 16 dead. No wonder anti-US feeling is growing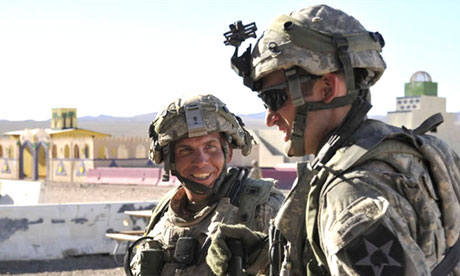 US army staff sergeant Robert Bales is accused of slaughtering 16 Afghan villagers, including nine children, and then burning some of the bodies. The massacre took place in two villages in the southern rural district of Panjwai. Though this horrific crime targeted Afghans on Afghan soil, Afghanistan will play no role in investigating the crime or bringing the perpetrator (or perpetrators) to justice. That is because the US almost immediately whisked the accused out of Afghanistan and brought him to an American army base in Fort Leavensworth, Kansas.
The rapid exclusion of Afghans from the process of trying the accused shooter has, predictably and understandably, exacerbated the growing anti-American anger in that country. It is hard to imagine any nation on the planet reacting any other way to being denied the ability to try suspects over crimes that take place on its soil. A Taliban commander quickly gave voice to that nationalistic fury, announcing: "We want this soldier to be prosecuted in Afghanistan. The Afghans should prosecute him."
Demands that the atrocity be investigated by Afghans are grounded in part by reports that Bales did not act alone. While US military officials decreed from the start that Bales was the lone culprit, eyewitnesses in the villages reported the presence of multiple attackers. Many Afghans simply cannot fathom how such a large-scale attack could have been perpetrated by a single shooter. Bacha Agha of the Balandi village told the Associated Press: "One man can't kill so many people. There must have been many people involved." He added: "If the government says this is just one person's act we will not accept it." President Hamid Karzai initially added fuel to those suspicions, notably accusing "American forces" of the attacks.
The suspicion that other American soldiers may have been involved, though unproven, is far from irrational. The notorious American "kill team"that deliberately executed random, innocent Afghan civilians (often teenagers) for sport, planted weapons on their bodies, and then posed with their corpses as trophies operated out a base in the same area. America's former top commander in Afghanistan, General Stanley McChrystal, admitted: "We've shot an amazing number of people and killed a number and, to my knowledge, none has proven to have been a real threat to the force." More