The past week brought fresh evidence of just how deeply India abounds in contradiction. On the one hand, New Delhi won international plaudits for standing up for democratic norms in Asia by voting at the United Nations Human Rights Council to investigate alleged war crimes in neighboring Sri Lanka.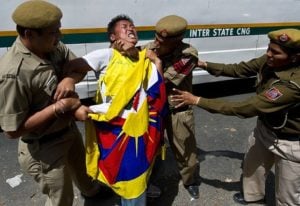 Inside its own borders, however, it further tarnished its credentials as a liberal democracy. Eager to avoid discomforting Chinese President Hu Jintao, in town for the annual BRICS (Brazil, Russia, India, China, South Africa) summit, New Delhi invoked a colonial-era law to impose a heavy-handed police lockdown of the Tibetan exile community. Police units sealed off Tibetan neighborhoods in the capital, denying residents the right of assembly and peaceful protest, or even free movement. People elsewhere in New Delhi who even looked Tibetan were harassed by police, an action that the Delhi High Court reprimanded as "racial profiling."
Adopting the Chinese practice of rounding up dissidents in advance of politically-sensitive dates, Indian police placed over 300 Tibetans in preventive custody, including two Tibetan exiles who were detained while speaking at the Press Club of India. Tenzin Tsundue, an influential Tibetan poet, was forcibly dragged away while addressing a women's forum. Tsewang Rigzin, an American citizen who serves as president of the Tibetan Youth Congress, was deported the moment he arrived at New Delhi's international airport.
These measures – instituted after a Tibetan exile, Jamphel Yeshi, set himself ablaze at a large anti-Hu rally held near the Indian parliament – are the latest instance of the country's timorous commitment to the ideals of free expression. The past year has witnessed other notable examples, including the imbroglio over Salman Rushdie's abortive appearance at the Jaipur Literary Festival as well as the invective directed at Joseph Lelyveld's biography of Mahatma Gandhi. The Hindu newspaper called the Rushdie affair "a national shame" and charged that "India has again betrayed its heritage of providing sanctuary to persecuted individuals and ideas, not to speak of its Constitution." More