The US military announced on Monday that no criminal charges would be brought against the US marines in Afghanistan who videotaped themselves urinating on the corpses of Taliban fighters
.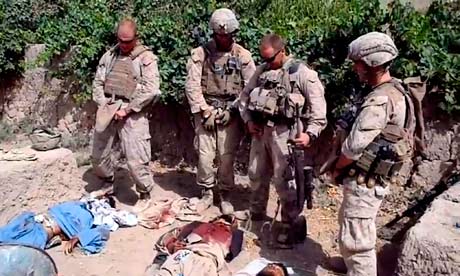 Nor, the military announced, would any criminal charges be filed against the US troops who "tried to burn about 500 copies of the Qur'an as part of a badly bungled security sweep at an Afghan prison in February, despite repeated warnings from Afghan soldiers that they were making a colossal mistake".
In doing so, the
US military
,
as usual
, brushed aside demands of Afghan officials for legal accountability for the destructive acts of foreign soldiers in their country. The US instead imposed "disciplinary measures" in both cases,
ones that
"could include letters of reprimand, a reduction in rank, forfeit of some pay, physical restriction to a military base, extra duties or some combination of those measures". Both incidents
triggered intense protests and rioting
that left dozens dead, back in February this year.
Courts are supposed to check the abuse of executive power, not cravenly serve it. But in the US and Israel, that is now the case
Parallel to that, an Israeli judge Tuesday
dismissed a lawsuit
against the Israeli government brought by the family of
Rachel Corrie
, the 23-year-old American student and pro-Palestinian activist who was killed by a military bulldozer in 2003 as she protested the demolition of a house in Gaza whose family she had come to befriend. Upon learning of the suit's dismissal, Corrie's mother, Cindy, said:
"I believe this was a bad day, not only for our family, but for human rights, humanity, the rule of law and also for the country of Israel."
Despite Corrie's wearing a bright orange vest, Judge Oded Gershon, in a 62-page decision,
ruled that
the bulldozer driver did not see her and her death was thus an accident. He went on to heap blame on Corrie for her own killing, arguing that, contrary to what "any reasonable person would have done", she "chose to put herself in danger" by trying to impede "a military activity meant to prevent terrorist activity".
More