Over the gates of Auschwitz were the words "Work Makes You Free". Over the gates of the Solovetsky camp in Lenin's gulag: "Through Labour – Freedom!". Over the gates of the Ngenya detention camp, run by the British in Kenya: "Labour and Freedom". Dehumanisation appears to follow an almost inexorable course.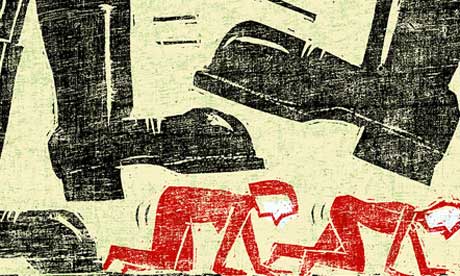 Illustration by Daniel Pudles
Last week three elderly Kenyans established the right to sue the British government for the torture that they suffered – castration, beating and rape – in the Kikuyu detention camps it ran in the 1950s.
Many tens of thousands were detained and tortured in the camps. I won't spare you the details: we have been sparing ourselves the details for far too long. Large numbers of men were castrated with pliers. Others were raped, sometimes with the use of knives, broken bottles, rifle barrels and scorpions. Women had similar instruments forced into their vaginas. The guards and officials sliced off ears and fingers, gouged out eyes, mutilated women's breasts with pliers, poured paraffin over people and set them alight. Untold thousands died.
The government's secret archive, revealed this April, shows that the attorney general, the colonial governor and the colonial secretary knew what was happening. The governor ensured that the perpetrators had legal immunity: including the British officers reported to him for roasting prisoners to death. In public the colonial secretary lied and kept lying.
Little distinguishes the British imperial project from any other. In all cases the purpose of empire was loot, land and labour. When people resisted (as some of the Kikuyu did during the Mau Mau rebellion), the response everywhere was the same: extreme and indiscriminate brutality, hidden from public view by distance and official lies.
Successive governments have sought to deny the Kikuyu justice: destroying most of the paperwork, lying about the existence of the rest, seeking to have the case dismissed on technicalities. Their handling of this issue, and the widespread British disavowal of what happened in Kenya, reflects the way this country has been brutalised by its colonial history. Empire did almost as much harm to the imperial nations as it did to their subject peoples. More
• A fully referenced version of this article can be found atwww.monbiot.com